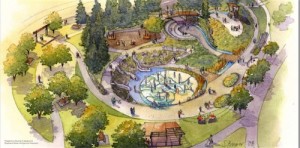 David Gackenbach forwards this appeal from Glenn Herlihy:
Dear Friends of the Playground,

This is a crucial moment for funding the Beacon Mountain Playground.

As you might have heard the levy money is now (this week) being allocated to different parks projects and Jefferson Park will receive a portion but where it will go is still up in the air. There is a good chance we might be able to fund the entire new Playground design if we can convince Parks Department Head Timothy Gallagher, and Parks Committee Chair Tom Rasmussen to allocate the levy funds to build Beacon Mountain Playground.

If we get them to fund and build the entire new design we will have a magnificent playground completed by next year. If they don't allocate the funds toward the the new design it would be phased construction for the next few years.

It been a long road to get our design approved by parks and ready to build so with one last push maybe we could see this dream through to completion. Those of us on the Beacon Mountain Playground Team believe play infrastructure is a healthy and sustainable investment for the future of our community.

Please take a moment and write a letter stating you wish to see levy funding to build the entire Beacon Mountain Playground at Jefferson Park. Include your name and address. Thanks

timothy.gallagher@seattle.gov
tom.rasmussen@seattle.gov

Long live play

Glenn Herlihy
18th Ave S
You can read more about the Beacon Mountain Playground here.