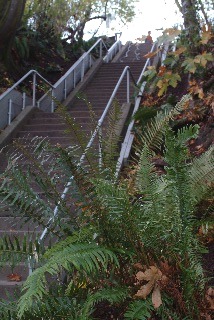 Dominic Holden discusses the 15th and Beacon car wash, and suggests that whoever filed a complaint about the car wash violating zoning is misguided: "The building, as far as I can see, has no windows facing the sidewalk. No window shopping, candy shopping, or book shopping will be happening in that garage. The pedestrian potential there—at least for now, with that building in this economy—is probably as good as it's going to get." Most of the commenters, however, disagree — Slog
Sound Transit is hosting another Lunch Bus trip at 11:30 am on Friday, April 17. The Lunch Bus is a guided tour of the Link light rail initial segment construction, followed by lunch at a local eating establishment. You are responsible for buying your own lunch. Tours depart and return at the southwest corner of 5th Ave S & S King Street in the International District. You must RSVP today — see the website for info.
Beacon Ridge Improvement Community is hosting an Earth Day Work Party this Saturday, April 18, from 9:00 am until noon. Neighbors will help clean up and beautify the public stairways at South Walker, Hill and Holgate Streets between 16th and 17th Avenues South. Refreshments will be provided. Please wear appropriate clothing and footwear, and bring tools if you have them, marked with your name (weeders, shears, shovels, trowels, rakes and brooms). Questions? Contact David at bricchair@comcast.net. Interested in becoming more involved? BRIC needs committee leaders and board members. See David if you are interested.
(Edited 4/16 to correct photo credit.)