Last Saturday, a Seattle Works volunteer team came to the Dr. Jose Rizal Park off-leash area to build a barricade around the wet patch in the park and make it more dog-friendly. Craig Thompson sent us some photos and a report on the project.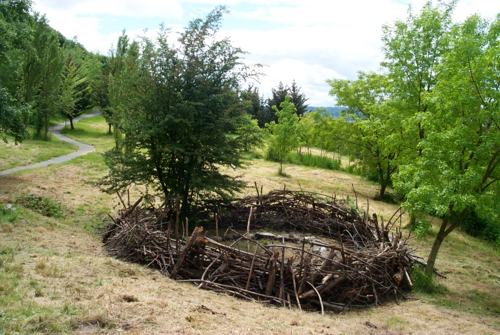 This is the structure that we built on Saturday down at Jose Rizal Park. At its center is the pond, then a ring of concrete blocks, then a band of salmon berries, then the corral of wood. It stands 4-5 feet high, and measures about 25 feet across and 3 feet thick. It incorporates only objects from the site.

When I do work like this, I have Andy Goldsworthy in mind. This is a multigenerational piece. The corral will be taken by the elements. The band will fill in quickly, protecting the pool from those of the canine persuasion while providing berries for birds and neighborhood pies. The ring will stabilize the pool, and should the pool become a sustainable pond, it can be stocked with the lowland Pacific tree frog. The drainage should work to prevent mosquitoes and other blood suckers, though a woman did comment today that it made her wonder if it would be used for sacrifices. People will play with it—repairs should be easy. It will be interactive—might make a nice bonfire, too.

There's a shortage of mid-level brush to host songbirds in Seattle Parks and woodlands generally, so this installation will likely draw them. Dogs can't get all muddy there anymore.

Besides building the corral, we also repaired the fence just east of it. Most of the wood came from a pile that was near the view area of the lower meadow, so that area now looks more open, too. We also improved the drainage in the meadow – that is a much bigger task. We had over 40 Seattle Works volunteers, plus five neighbors. I divided them into three teams—one of the pix shows about a third of the group.

All in all, a darn fun project. Check it out if you have a moment—looks medieval!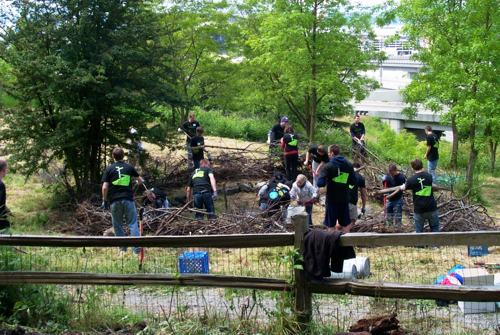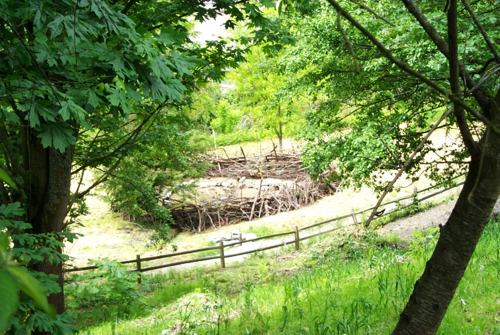 (All photos courtesy of Craig Thompson.)