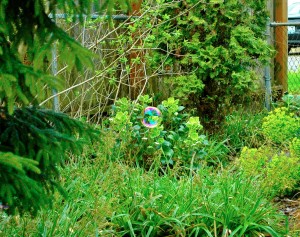 Alleycat Acres
and
ROCKiT space
have been pretty busy in the neighborhood lately. Now, they are working together to build an
educational community garden
in the backyard at ROCKiT space. On Saturday from 1:00-5:00 pm, the two groups are inviting the community to a work party to transform the space. They will also sell plant starts and baked goods to help raise funds for the garden, and there will be music and artsy activities as well as a potluck. To help out, email rockitspace@gmail.com or volunteer@alleycatacres.com or just show up on June 12th. ROCKiT space is located at
3315 Beacon Avenue South
. For more information,
see the website
.
* * *
El Centro de la Raza is hosting another series of Spanish classes, to begin on June 28. Classes are instructed by professional native Spanish speakers in an interactive community-based setting. Classes will be on Mondays and Wednesdays from 6:00 pm to 7:30pm. Go here for information and a registration form. If you have questions, please call (206) 957-4605 or email execasst@elcentrodelaraza.org.
* * *
The last two parts of Kevin Minh Allen's three part series in the International Examiner, "Beacon Hill, Our Story," are online now. Read the full series here: part I, part II, part III.
* * *
Local Metro driver and YouTuber punkrawker4783 has posted a video tour of Beacon Hill Station.
* * *
Speaking of Link, Mike Lindblom reported in Sunday's Seattle Times (BHB news partners) that there are still issues with the noise of the trains in Tukwila, along Martin Luther King Jr. Way South, and along the curve near Mount Baker Station and the Beacon Hill tunnel, though a lubrication system added last winter has helped somewhat. Have you noticed the noise, and have you noticed any improvement?
* * *
Dan Bennett took this cool panoramic photo of Jefferson Park recently. Click on it to see a larger version. Once you're there, click "Original" to see a much larger version.
* * *
A land use application has been filed to allow change of use in the basement of an existing apartment structure at 1731 South Horton Street to a religious institution (Zen Buddhist Meditation Center); it would require approval of an Administrative Conditional Use to allow an institution in a single family zone. See this bulletin for further information. The comment deadline is June 20.
* * *
Lastly, we wanted to pass on some information about a financial assistance program that is currently open for low-income families in Seattle. Central Area Motivation Program (CAMP) offers an Energy Assistance Program that provides financial assistance through LIHEAP and Puget Sound Energy HELP to help low-income families and individuals pay home heating bills and minimize future home heating costs. Eligible clients can receive up to $1,000 through LIHEAP or Puget Sound Energy for utility payment assistance and up to $5,000 for dysfunctional heating system, chimney, or window repair or replacement. For more information, see the website or call the Appointment Hotline at 1-800-348-7144.
Once, many years ago, I was in a very bad financial situation and CAMP's program was what kept the heat from being turned off in my apartment that winter. I want to take this opportunity to thank them for being there when I needed help. If you know anyone who might need similar help, please do make sure they get information about CAMP's program.