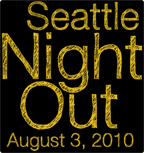 Seattle Night Out is coming on Tuesday, August 3. Night Out is an evening event in which communities hold block parties where neighbors can connect with each other and organize their neighborhoods against crime. This year's theme is "Celebrating Crime Free Neighborhoods." You can find more information, and register online to hold a block party, at the Seattle Police Night Out website. If you register your block, you may be able to close your street to traffic in order to hold your block party.
You may wish to apply for a Small Sparks Grant to pay for activities at your block party. The Small Sparks Fund provides awards up to $1,000 to support projects that help build a stronger and healthier community. You'll need to get your application in soon; there is a six week lead time. For more information about Small Sparks, see the website.
If you would like us to post about your Beacon Hill Night Out block party, email us. We'll compile all the block parties into one post that we'll post shortly before August 3.