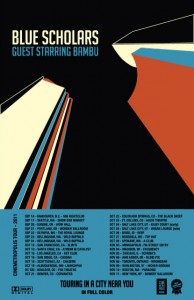 This is the first of an occasional series of "Get Off the Hill" posts, in which the BHB will mention some entertainment options that aren't in the neighborhood. We love spending time on Beacon Hill, but we can't spend all our time here. Occasionally it's worth leaving the hill for a good movie or a concert.
* * *
Beacon Hill hip-hop duo Blue Scholars have just started their first nationwide tour and will be playing in front of the hometown crowd in an all-ages show at the Showbox at the Market, Saturday night, September 17. The tour will take them all the way to New York City, where they'll wrap up the whole shebang on November 11.
The Showbox show is sold out. We hope you have tickets. If not, perhaps you can catch them in Portland, Olympia, or Bellingham. (Tickets are cheaper there anyway.)
In the meantime, check out this discussion between Sabzi of Blue Scholars and Maikoiyo Alley-Barnes of Tarboo Inc., and enjoy this song:
* * *
Rainer Werner Fassbinder's
World on a Wire
takes place in an unspecified future world of cold blue light, mirrors, large unfriendly spaces, and 1970s technology. In this world (both terribly retro and yet oddly still futuristic), a computer simulation, Simulacron-3, hosts the silicon existence of thousands of "identity units" (think "Sims"), under the supervision of cybernetics engineer Fred Stiller (Klaus Löwitsch).
The identity units live in their own world, unaware (except for one) that their world isn't real. But things are not always what they seem in the real world, either. The former director of the Simulacron program dies mysteriously, with a secret that may have driven him insane. The security director of the program tries to tell Stiller the secret, then disappears. No one but Stiller remembers he even existed. More disappearances, conspiracies, deaths, lost memories, and, yes, even a love story follow as Stiller eventually discovers the truth about his own existence.
The film starts out slowly but soon kicks into gear. The secret behind Stiller's world isn't terribly hard to guess in post-Matrix-2011, but his journey is fascinating, as is the world he inhabits: a near-future world of mirrors occupied by figures wearing dead stares, constantly observing; but a world that is also recognizably 1970s Europe, foreign to us in both time and place.
The three-and-a-half hour film, originally made as a two-part German television miniseries in 1973, has been fully restored. There is an intermission between the parts, so you should allow about four hours for the film.
World on a Wire
Showing at Northwest Film Forum (1515 12th Avenue, Capitol Hill)
September 16-22, 7 p.m.
In German with English subtitles
Unrated
Here is a trailer: