by Sheba Burney-Jones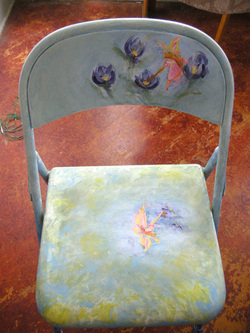 ROCKiT space
, Beacon Hill's home-grown music and arts organization, is launching a
Community Art Chair project
at their upcoming Harvest Fair on Saturday, October 22. The project converts 40 metal folding chairs, donated to ROCKiT by Peace Action, into a fleet of art chairs to be used at ROCKiT events and loaned to community groups for other public events. A prototype was painted by artist Kathleen McHugh and displayed at Beacon Rocks! during the summer.
The chairs are in need of some TLC before they can be decorated. Two volunteer work parties are scheduled to wash and prime them before the Harvest Fair. Join friends of ROCKiT on Sunday, October 2 from 2-5 p.m. to clean the chairs, and Saturday, October 8, from 10 a.m. to 1 p.m. to prime them. Everyone is welcome! Snacks, supplies and camaraderie will be provided. Drop by 5919 Shaffer Avenue S. in Seattle to lend a hand. For further information, write shebabj@gmail.com or call 206-669-4574.
Mark your calendar for the ROCKiT Harvest Fair on Saturday, October 22, from 2 – 9 p.m., at the Garden House on Beacon Hill (2336 15th Ave. S.) for creative family fun featuring music and activities that reflect the Beacon Hill community. For more information,visit the ROCKiT space website.