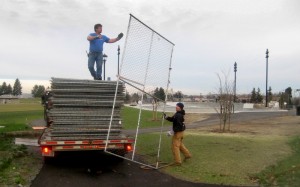 The fences came down yesterday at the Jefferson Park Skatepark — it's now fully open to skate! According to Seattle Parks and Recreation, "The new park features the deepest bowl in Seattle, with shallower bowls alongside, a hexagonal elevated dish, great street features and lighting. The skatepark also features one of the best views of Seattle."
The park was designed by Grindline Skateparks Inc., in collaboration with The Berger Partnership and with input from several community meetings. It was funded by the Parks and Green Spaces Levy which contributed $1,000,000. SubPop Records contributed an additional $10,000.
The Jefferson Park Skatepark is located at 3801 Beacon Ave. S., behind the Jefferson Community Center.
Also of interest to Beacon Hill skaters is the Benefit Park Skatedot, which is currently in the design phase.