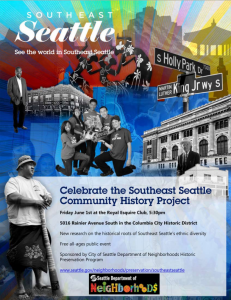 Those interested in the history of our part of Seattle should journey to nearby Columbia City this Friday, June 1, at 5:30 pm for a free all-ages public event celebrating the Southeast Seattle Community History Project.
The Community History Project's goal is to use traditional historic preservation methods combined with community-based research to identify and illuminate the people, places, events, and policies that shaped Southeast Seattle during the post-World War II era. See the Project's website here.
Some of the Project's activities have included studies by community organizations such as El Centro de la Raza, the Northwest African American Museum, the Wing Luke Asian Museum and the Washington State Jewish Historical Society; essays on geographic and social themes related to the neighborhoods within Southeast Seattle; a new local history app by HistoryLink.org; and a multilingual poster series in Chinese, Somali, Spanish, and Vietnamese.
The event is at the Royal Esquire Club, 5016 Rainier Ave. S. in the Columbia City Historic District. Deputy Mayor Darryl Smith and City Councilmember Sally Clark will be there to join the celebration. Free Southeast Seattle posters will be available.
For more information, contact Melinda Bloom at 206.682.0228 or melinda.bloom@seattle.gov.