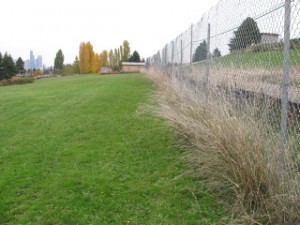 The Beacon Food Forest team invite the community to visit the Food Forest site during the Beacon Hill Festival this Saturday, June 2, to imagine what will soon be.
Christina Olson tells us: "The Food Foresters will have their site 'planted' with over 40 varieties of fruit and nut trees, berry bushes, compost bins, beehives, and everything else needed to realize a great community gathering spot and food resource."
There will be signs in the ground to show what will eventually be planted or built in each location. Olson says, "You stroll along the path, you see a sign that says '#1: Apple' then you look at the handout and see that #1 is the Chehalis Apple, which is large, yellow and sweet; it ripens in September. You stroll further and see #40 and read that that is the location of the beehives. And on and on. There are over 45 trees, berry bushes, or built elements that will be located."
Grading of the site will begin in July, after which it will be a construction zone for a while as waterlines, retaining walls, paths, and other features are constructed. This weekend is the best opportunity to visit the site and visualize the future Forest before the mess begins.
The Beacon Food Forest is located immediately west and downhill of Jefferson Park, on the big grassy slope along 15th Avenue South between Dakota and Spokane Street. Follow the signs along the Park footpath to the tour starting point.