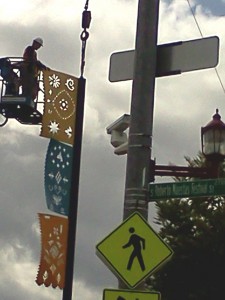 A few neighbors let us know on Wednesday that Sound Transit was restoring the metal "flag" artworks by Carl Smool to the station plaza. The colorful artwork, mounted on several poles, was removed for retrofitting after one of the poles fell in strong winds in March 2011.
When we went by to check out the returned artwork Wednesday afternoon, however, we were surprised to see that the poles were gone again. Sound Transit representative Bruce Gray tells the BHB: "We ran into some installation issues and need to double check a few things before we move ahead with the reinstallation. We want this to be the last time we do this, so we're being extra cautious."
Also at Beacon Hill Station, travelers may have noticed some unsightly mess in the passage between the two platforms. Gray tells us that that there is a leak in the ceiling there, but it is being fixed under warranty by the station's contractor.