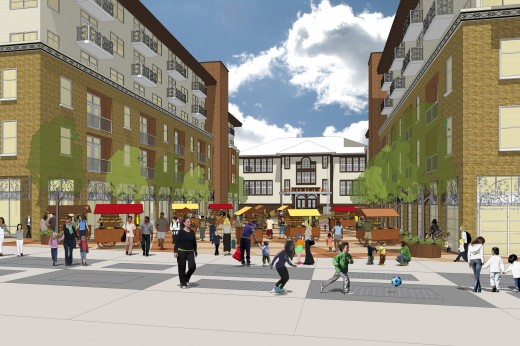 After the Beacon Hill Merchants Association annual meeting this Saturday, July 21, there will be a presentation about the Plaza Roberto Maestas – Beloved Community (PRM) development being planned for the south lot at El Centro de la Raza. The presentation will include time to give feedback and ask questions about the project, as well as to discuss the retail spaces and business opportunities that the project will provide. The meeting is at Kusina Filipina (3201 Beacon Ave. S.), and the presentation, which is open to the public, is expected to start about 1 p.m.
El Centro de la Raza and the North Beacon Hill Council co-hosted a public meeting on June 19 to discuss preliminary designs for the project. Over 60 people came out to the meeting to ask questions and give feedback about the early design ideas (see photos of the meeting here). You can read notes from the meeting here (PDF) and see a PowerPoint presentation about the project here.
The images shown on this page give an idea of the type of development that is being considered, but the project is very early in the design process and still subject to much potential change. Community feedback is vital at this stage to shape the future of the development.