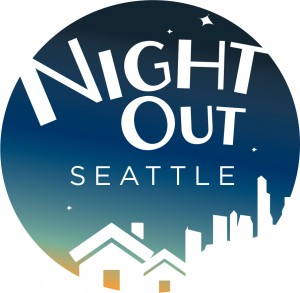 (Update, Friday evening: Neighbor Sergey points out that many more Night Out events are scheduled that weren't on the SPD event map. Go here to see a longer list of Beacon Hill events, and a map to the events. — Ed.)
Next Tuesday, August 7, is the annual Night Out Against Crime. The theme of this year's event is "Celebrating Crime-Free Neighborhoods." Neighbors throughout the city and the neighborhood are planning Night Out block parties to get together socially and celebrate their communities with music, food and other activities, as well as to increase crime prevention awareness.
Beacon Hill events have already been planned, including one at 12th Avenue South and South Hill Street and another at the 3300 block of 17th Avenue South.
It's not too late to host your own Night Out event. To register your event, go here. If you register your event, you can close your street for the block party (under certain conditions), and request that police and fire personnel visit your party if possible.