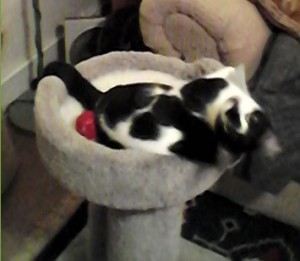 Update, late Tuesday night: Shadow is found! Matthew says: "I found her mewing outside about four feet up a bush around ten o'clock tonight."
Have you seen Shadow? Shadow is a spayed, indoor kitty who made an escape from an apartment window at 17th Avenue South and South Stevens today. She is a very friendly kitty, about 2 1/2 years old and 5-6 pounds. She does have a microchip.
If you find her or have seen her, call Matthew at 206-877-3059.