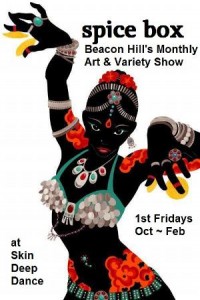 Skin Deep Dance will present Spice Box, a monthly art and variety show, on Friday, October 5, at the Skin Deep Dance Studio (in the El Centro de la Raza building).
This month's Spice Box will include art by Kook Teflon, art and performance by Magi, and performances by Amazon Heart, Bollywood Bliss (Katrina's Bollywood student troupe), Janelle Bel Isle, Lesley Rialto, Twilight, and Chloe Anderson.
Admission is $10/person, free for kids under 12. All ages are welcome, and the event is family friendly. Proceeds will benefit Skin Deep Dance's SEEDS (Self -esteem, Empowerment and Education through Dance) program.
The Spice Box series will continue on the first Friday of every month. Performers and artists have already been booked for events on November 2, December 7, and January 4.
The studio's address is 2514 16th Ave. S. #311. Enter El Centro through the North entrance.