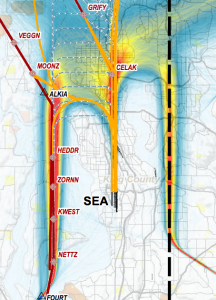 As reported yesterday in the Seattle Times
, the FAA has approved the new "Greener Skies" flight method to land planes at Sea-Tac Airport new way to land planes at Seattle-Tacoma International Airport received final approval from the Federal Aviation Administration on Thursday.
In this method, arriving planes would approach the airport in a smooth descent, instead of the stairstep pattern they currently use. According to the FAA, this will save millions of dollars in fuel use per year, and it will also be safer, by reducing the potential for miscommunication between pilots and air traffic controllers.
Though the plan has these advantages, many residents of neighborhoods under the flight path are concerned about Greener Skies' auditory impact. Information that has been published about the changes implies that the plan would condense the flight path, possibly sending more flights over Beacon Hill than current flight paths do. Neighbors including North Beacon Hill's Quieter Skies Task Force requested a meeting with the FAA to discuss the plan and ask questions about the very technical information that has been published so far.
The FAA turned down the request for a meeting on Greener Skies, but offered to hold a general meeting about air traffic on October 23. The meeting was then cancelled, due to the unavailability of a key FAA official.
Erik Stanford of the Quieter Skies Task Force sent out this letter to supporters yesterday:
"The FAA and the Port of Seattle abruptly cancelled our meeting just 5 days before it was scheduled. The meeting was cancelled within hours of receiving the following agenda:

FAA to compel the Port of Seattle to install more noise monitors
FAA to fund the Port of Seattle to purchase, install and actively monitor the devices
Determine process for expanding the use of "Fly Quiet" procedures for Sea-Tac departures (in lieu of a "Noise Abatement" flight pattern)
Explain what "fly Quiet" procedures/protocols are available? Being utilized? (ex: powering back on departure, lowering landing gear closer to airport, etc.)
Extend the current FAR Part 150 Noise Study for Sea-Tac Airport to include 98144, 98118, and 98108.

We have rescheduled the meeting for Tuesday, November 13th from 6:30pm to 8:30pm at the Cleveland High School Theater located at 5511 15th Ave S. Translation services and refreshments will be provided."
According to the Times, less than 15 percent of arriving Sea-Tac flights will use the new plan next spring, starting with Southwest Airlines and Alaska Airlines. The FAA will gradually expand Greener Skies over time.