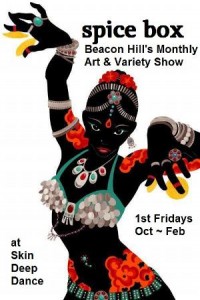 Tonight's monthly Spice Box show put on by Skin Deep Dance is a special one to celebrate Skin Deep's 5 year anniversary. The event runs from 7 to 9 p.m. at Skin Deep Dance Studio in the El Centro de la Raza building, 2524 16th Ave. S. #311.
Among the attractions in tonight's show are art by Melissa Metesh and performances by ModRom Dance Collective, Maureen, Skin Deep Dance, Carly Aniluk, and Sirens of Serpentine (students of Leslie Rosen). The show will be emceed by Sarah O'Brien.
All ages are welcome, and the show is family-friendly. Admission is $10 per person, free for teens and under. Proceeds will benefit Skin Deep's SEEDs (Self-esteem, Empowerment, and Education through Dance) program. Guests should enter El Centro through the north entrance; elevator access to the top floor is available. Parking is free.