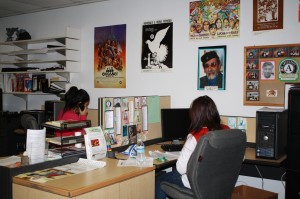 by Mwiza Kalisa
Schools First, a non-profit volunteer-led organization that conducts Seattle's public school levy campaigns, is seeking volunteers for phone banks at the organization's headquarters. Yesterday evening, Chief Sealth High School students, parents and community members made calls at Beacon Hill's El Centro de la Raza to remind voters to renew two upcoming school levies.
On February 12, Seattle voters will be asked to renew two property-tax levies that bridge state funding gaps and support facility improvements for Seattle Public Schools. Proposition 1, a $551.9 million Operations Levy, will provide funding for approximately 27 percent of Seattle Public School's operating budget over the next three years. The school levy will help fund teachers' salaries, textbooks, transportation, a sixth period for high school, and security and special-education programs, among other basic day-to-day costs not fully funded by the state. Proposition 2, the $694.9 million Capital Levy (BEX IV), will provide funding to maintain, improve and expand school buildings. Both propositions are renewals of existing levies. If approved, these levies would cost the owner of a $400,000 home $13 a month over what the homeowner pays on the expiring levies.
Blanca Olivera, a student at Chief Sealth High School, joined the volunteer callers at the event. "I think [the levies] are going to help us at the end of the road for everything we need," she said. Olivera added that some of the challenges her school faces are large classroom sizes and outdated technology.
Phone bank opportunities for volunteers are Friday and Monday 5 p.m. to 8:30 p.m., Saturday 12 p.m. to 4 p.m. and Tuesday 10 a.m. to 4:30 p.m. at the McKinstry Innovation Center, 210 S. Hudson Street. Students who are interested in participating can receive community service hours.
Contact Kerry Cooley-Stroum at kcs@seanet.com or Dayna Lurie at dayna.lurie@gmail.com for more information.