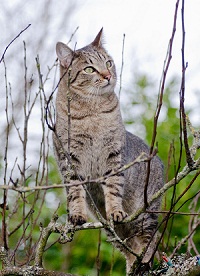 Neighbor Krystyn writes:
Our cat has been missing since the night of Friday, March 22nd from our yard on North Beacon Hill at the corner of 18th Ave S and S Holgate St. He is a 1 year old, short-haired, tabby striped bobtail. Think bobcat or lynx look-a-like. If you live in the area, can you check your garage, basement or garden shed? Please call if you have seen him. He is afraid of strangers and will run away if you try to catch him. Thank you! We miss Messi.
If you can help, call Mike at 206-658-5169.