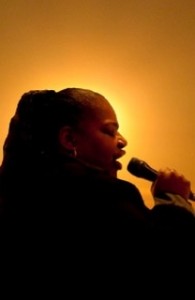 The Garden House Blues series
returns this Friday, April 19, when Elnah Jordan, Eric Verlinde, and Tom McElroy perform at the Garden House, 2336 15th Ave. S. Doors open at 7 p.m. and the concert starts at 8 p.m.
Vocalist Elnah Jordan performed the role of the legendary Bessie Smith in San Francisco for 2-1/2 years in The Evolution of the Blues, and later starred in Street Dreams, an Off-Broadway musical drama. She has since built a reputation as a powerful singer in jazz, R&B, gospel and blues. Pianist Eric Verlinde's fifth CD, Firewalker, collects some of his more than 150 compositions ranging "from Latin jazz to swinging hard-bop." Jazz guitarist Tom McElroy will open the show.
Before the show begins, Beacon Bento will be available with meals delivered to your table from Inay's Kitchen and Travelers Thali House for $10 or less per meal.
For more info, see the website.