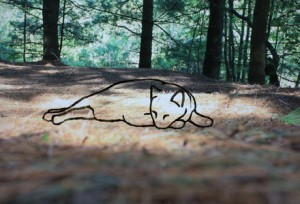 Beacon Hill animator Tess Martin attracted attention last year by animating a three-minute film, The Whale Story, on a large Capitol Hill wall. This year she's back with three new films including Barzan, which played last Sunday at the Kirkland Performance Center, and They Look Right Through You, playing with the feature Furever on Sunday, June 9, at 6:30 p.m. at the Egyptian Theatre as part of the Seattle International Film Festival. She took some questions about her new work over email.
Beacon Hill Blog: Please describe the three new projects you're showcasing in this year's Seattle International Film Festival. Two are shorts, one is a feature including your sand animation. Which project was the easiest and which the most difficult?
Tess Martin: The three projects I have in SIFF this year are two animated shorts directed by myself, A Walk in the Woods and They Look Right Through You, and then I have 7 minutes of sand animation in a documentary called Barzan directed by Alex Stonehill and Brad Hutchinson.
They are very different — A Walk In The Woods is a one minute short, the shortest film I've ever made! And it is animated with objects–sticks and leaves, etc. They Look Right Through You is a nine-minute short, and I was working on it on and off over 18 months, but was seriously animating for about 4 or 5 months. This one is marker and paint on glass with some time-lapses thrown in.
The sand animation in Barzan took me about 7 months all together. In some ways Barzan was the hardest because we picked some very challenging things to represent in sand, but the results were worth it.
Beacon Hill Blog: They Look Right Through You combines interviews with pet owners and marker-on-glass animation. Had you used this style of animation before? What are its particular challenges? How did you go about obtaining the interviews for the soundtrack? What was Susie Tennant's contribution?
Tess Martin: I hadn't used marker-on-glass animation before. I was playing around and discovered that it's very nice for animation because the marker can be easily wiped away, as opposed to paint, which is often stickier. I'd say the main challenge with marker-on-glass is that is requires a lot of drawing! You're basically re-drawing the image over and over, and erasing where it was previously, so you have to be on your drawing game so to speak when you're animating.
In October or November 2011 I put a call out on my neighborhood listserv for people who were willing to be interviewed about their pets. I got a lot of responses and spent a few weeks traipsing to people's homes and talking to them with an audio recorder. I read about Susie Tennant's situation in one the Seattle weeklies, because her and her family were raising money for her medical care. The story included one sentence about how her dog alerted her to the fact she had cancer. I asked her if she would be willing to share her story for my little film. She was gracious enough to accept, and her story is so compelling that it became one of the two main stories in the film.
Beacon Hill Blog: How was A Walk In The Woods animated? How long
did you spend in East Haddam, CT, where the film was made, and what did you do there? What were your impressions of the area?
Tess Martin: The film was animated with objects I collected in a big park that makes up a lot of the grounds of the I-Park artist residency. I won a residency there in August/September of 2012, and I was mostly working on They Look Right Through You during that month.But I had hit a wall with that film and had 4 days of the residency, so I decided to do something completely different.
I traipsed around the beautiful park, brought all the material back to my studio and created a story with it. I thought it would be fun to try to make it exactly one minute. So that's how that happened — it's the shortest production time of all my films! I then worked with my composer, Spencer Thun, to get a beautiful score for the film that hit all the emotional points in such a short time.
Beacon Hill Blog: Your work on Barzan was integrated into the documentary film. How much contact did you have with the film's directors, Alex Stonehill and Brad Hutchinson? How did you go about coordinating with them? What are the particular challenges of sand animation, and had you used that technique before? (Does the sand tend to go all over the place?)
Tess Martin: I was approached by the Barzan crew and they showed me the cut of the film they had so far, and where they were envisioning the animated segments going, and what the animated segments needed to contribute to the film. Once I had a clear idea about that I storyboarded the scenes as I felt they should be, and then there was a little back and forth about particulars. I'd say we met about 4 or 5 times, with a lot of email. It was a very happy relationship because to their credit they were on board with most of my ideas even though it must have been hard to picture exactly what I was talking about.
Sand is great fun and challenging of course. You're working with a very thin layer of sand on a flat surface, and yes, I was finding sand around my desk for a long time afterwards. You just have to be really careful not to bump the table or sneeze near your work.
Beacon Hill Blog: How long have you lived on Beacon Hill? How does it compare/contrast with other places you've lived? How does the neighborhood/community influence your work and your attitudes?
Tess Martin: Beacon Hill is the only neighborhood I've lived in in Seattle since I moved here five years ago. It's certainly one of the most residential areas of a major city I've lived in, even though I live right on the main road, so for me the experience is probably less quiet than most Beacon Hill residents. But I love living in a quiet friendly place with other friendly people. I'd say the best thing I get out of Beacon Hill is its diversity — it's nice living in a neighborhood where there are residents of all ages and ethnicities — it feels like the real world.
Beacon Hill Blog: What are your plans for the future?
Tess Martin: I'm working on a few films right now and I may be moving to The Netherlands for a Masters program at the end of the year — it's still up in the air but could be very exciting.