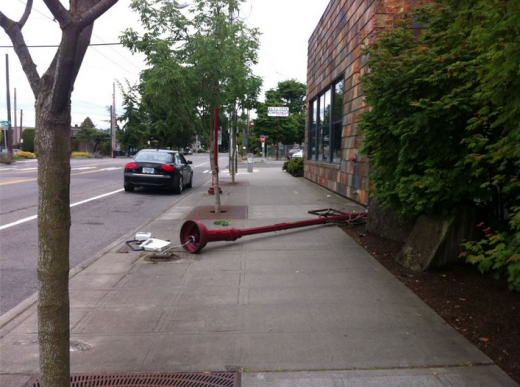 Reported yesterday (Thursday, June 28) on the Beacon Hill Merchants Facebook page:
Unneighborly neighbor, potential tragedy averted: At approximately 3:10pm this afternoon a group of summer camp kids and another smaller group of middle school boys were walking toward the library when this once lovely light pole was knocked flat behind them by a large camper van. One boy said he felt the swoosh of air as it fell behind him. The man and woman were said to be hanging out there for a while, possibly arguing and drinking, before they rammed the pole as they pulled away from the curb.

Your dear Merchants staff gathered data, provided details to SPD and reported to City Light. In no time Dan and Scott from City Light's emergency crew were onsite to disconnect wires and make the sidewalk safe again. Thanks guys!
(Thanks to Angela Castañeda for the scoop!)