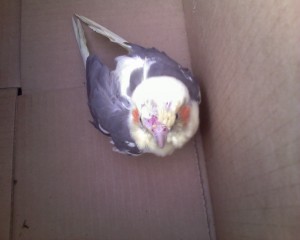 Jeffrey Cornish writes:
"At approximately 1500 hrs on Saturday, I (Jeffrey D. Cornish) while on patrol around the Amazon.com building observed a yellow cockatiel on the sidewalk beside one of the concrete columns on 12th Ave in front of Quarters #10 at the intersection of 12th Ave and Judkins. I called Animal Control and Officer Matthew Belue responded and picked up the bird.

"If you need the incident # or the report you can call Wright Runstad & Company Security and we can furnish this information. The bird was transported to the animal shelter at approximately 1525."
You can reach Wright Runstad & Company Security at 206-255-3974.