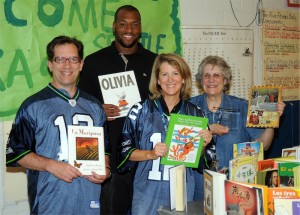 Beacon Hill International School recently received $20,000 in new foreign language books for their library, as part of the
Symetra Heroes in the Classroom MVP Award
, which provides funding to enhance and support learning at Seattle schools.
Each year, schools compete for the MVP Award by developing program proposals to enhance student achievement. BHIS developed the "Heroes at Home" program, which empowers parents, especially non-native English speakers, to assume a more active role in supporting their child's literacy learning.
The MVP Award funds have been used to purchase hundreds of new books and audio recordings in languages such as Chinese, English, Somali, Spanish, Tagalog and Vietnamese for this program.
Heroes at Home will also feature new weekly Family Library Days, in which parents will be invited to volunteer in the library to help children with book selection and check out.
Congratulations to Beacon Hill International School!