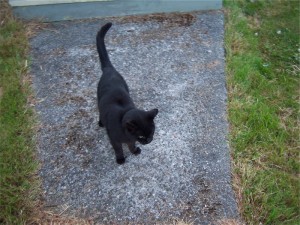 We hope all of your pets are at home, happy and healthy after last night's fireworks. Unfortunately, we've gotten a lot of reports of pets going walkabout lately, even before the July 4th noise.
This message was posted yesterday on the Georgetown neighborhood mailing list by seaofcarnage@yahoo.com:
Friday night July 3, a very well mannered and nice yellow dog appeared at
the 9 lb Hammer. He is definitely not a stray. No collar or tags were found,
I have taken him into my care until his owner is found. If you know of
anyone that lost a dog last night, he is at my home on Warsaw. I will
contact the shelter on Sunday to see if he has a chip and to report him,
however I will not be handing over custody of him to the shelter. Please let
me know if you know where this dog belongs, I believe he came down from
Beacon Hill.
Henry, a neighbor at 19th Avenue South and South Lander, found an adorable little black kitty in his yard on July 4. The cat has a pink collar and bell, but no tags. Is she yours? Contact Henry at hlouie1979@msn.com.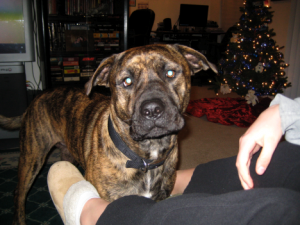 On Friday evening, a
four-year-old brindle lab/pit mix dog, Bruno
, was lost from the area of 19th Avenue South and South College Street. He's 85-90 pounds, and has a black collar with ID tags. If you find him, please call 253-218-9635 or 253-332-6944.
One other possible pet was reported to be making its own noise — a rooster. Roosters are, of course, illegal in the city of Seattle (you can have three hens, though!). Rumor has it that at least one rooster is running wild in North Beacon, however, so the one that's been cock-a-doodle-dooing this week near the area of 15th Avenue South and South College Street may be the that one.
Update, July 6: We are told that the rooster near 15th and College really does belong to someone (see the comments below) and has been living there for some time now. Also, we were apparently misinformed. Roosters are not illegal in Seattle. But neighbors can make noise complaints to Animal Control at 206-386-7387.