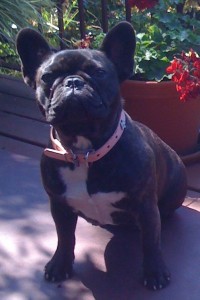 Neighbor John writes:
"Have you seen this dog? Betty is a 1yr old french bulldog who was last seen on Monday afternoon (9/20) in the dog run next to our house at 13th and Atlantic on North Beacon Hill. We really want her back, so please contact us if you have seen her. You can call John at 206-235-0365. $200 reward."
Followup: John says, "I have good news. Betty has been found and is back home doing well. She was sold to someone in Chinatown yesterday, who saw our flyer today and returned her this afternoon. Neighbors should feel free to say 'hi' when you see Betty on her walks! Many thanks to our Beacon Hill neighbors and the super blogtenders!"
We are glad that Betty is back home where she belongs!