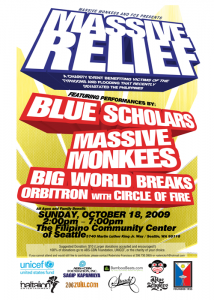 Looking for something to do this weekend and next? All-ages events are scheduled nearby in Rainier Valley each of the next two weekends: one to raise money to help those in need, and one to celebrate the printed word.
Local dance crew Massive Monkees and hip-hop group Blue Scholars will share a stage for the first time again in a benefit show on Sunday, Massive Relief, to raise money for victims of the recent tropical storm Ketsana. The benefit, featuring a b-boy/b-girl (break dance) workshop, food, conversation, live music and more, is open to all ages, and will be held at 2:00 pm October 18 at the Filipino Community Center, 5740 Martin Luther King Jr. Way South. Later that evening there is a 21+ after-party benefit concert, at 8:00 pm at The Crocodile, 2200 Second Avenue in Belltown. (via the P-I's Big Blog)
The following weekend, Columbia City will be the place for local booklovers to be, with the arrival of the 2009 Seattle Bookfest. The Bookfest will be held on October 24 and 25, from 10:00 am until 6:00 pm at the Columbia City Event Center, the former Columbia School building at 3528 South Ferdinand Street. This is only a block away from Columbia City Station, and also a block away from Rainier Avenue and "downtown" Columbia City. The event will include activities for the whole family, many authors and speakers on three author stages, and lots of local publishers, bookstores, and others displaying their wares.
(Thanks for the correction, PB.)