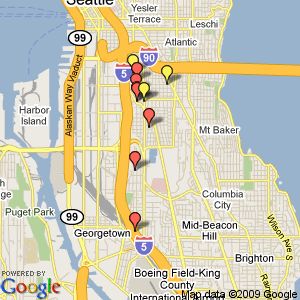 Going off of the scanner activity logged at bhnw.org, there's been a seemingly large and sudden jump in burglaries in mid-north Beacon Hill, particularly along 13th Avenue South. In just the last two days, and only counting the reports logged by the part-time volunteer staff of BHNW, there have been 6+ burglaries and several other related crimes, mainly along this stretch.
Update: From Captain Emerick via Mariana Quarnstrom via Steve Louie:
FYI, the morning shift just caught two burglars in the act around Swift Ave and Eddy. They kicked a door and ran when the homeowner confronted them. Great arrest. Suspects were 2 older white guys that appear to be homeless or living at the missions. They will be going to jail soon..
Also, Mike Cheney has an update on the block watch program he's spearheading in the forums.
Some of the security tips from the June South Precinct Email Community Newsletter are not really applicable for this time of year, but some warrant reviewing:
Install good quality dead bolt locks with at least a 1" throw on all exterior doors.

Replace the existing screws in the strike plates with screws that are 3"-4" long. When a door is forced open, it is the jamb that splinters and gives, not the door. By securing the strike plates with 3"-4" long screws, you secure the jamb to the wall stud. When the deadbolt lock is engaged, the bolt goes into the jamb and the jamb is now secured to the framing of the home. This makes it much more difficult for a person to force open a properly locked door.

Secure Tools and Ladders

Secure all tools, including ladders, so they cannot be used to gain entry into your home or that of a neighbor.

If Away For An Extended Period Of Time

If you're going to be away for an extended time, ask a friend or trusted neighbor to watch your home. If they see suspicious activity while you are gone, they will know to call 911 for you.

Have the Post Office hold your mail and hold your newspaper delivery.

Make it appear that your home is occupied. You can do this by having timers set within the home that will turn lights on and off. You may want to consider timers for your exterior lights or photocell attachments (which activate when it gets dark and go off when it becomes light).

Do Not Leave Personal Belongings Unattended

Whether they are in a shopping cart or on a picnic blanket, always maintain positive control over your belongings. Never leave personal belongings unattended in your vehicle. Seattle has an incredibly high rate of theft of personal property from vehicles, particularly at public parks.
Additionally, record the serial numbers of your more valuable electronic items and keep them in a safe place. Consider engraving identifying information on your valuables as well. Take photographs of your valuables showing the identifying information.
Keep an eye out for suspicious individuals in your neighborhood. Be wary of solicitors or people going from door to door asking to use your phone, your bathroom, or a glass of water. Solicitors must register and carry identification in the city of Seattle. Call 911 if you encounter suspicious activity. 911 calls are used to determine police staffing and patrolling.