Do you have an opinion? We welcome opinion articles on topics related to Beacon Hill. Please email us your articles.
by Andrea Leuschke and Tim Abell
What if you could start from scratch and locate the Beacon Hill Central Park, the neighborhood's focal point, anywhere on Beacon Hill—without disrupting existing businesses, without relocating current residents, without demolishing any of the many buildings of character on Beacon Hill? Ideally it would be located on Beacon Avenue, in the heart of the Urban Village, close to the transit station… and that is exactly what we are proposing.
The Parks and Green Space Levy Oversight Committee announced that there are funds available for the acquisition and development of park space. The intent of this project is to acquire the land surrounding the light rail station (see a map of the area here) to create an urban park in the heart of the North Beacon Hill Urban Village.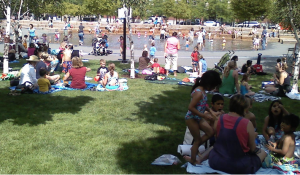 Our neighborhood has seen great changes in the past few years with the addition of a new library and the recent opening of the Beacon Hill light rail station. As both the adopted North Beacon Hill Neighborhood Plan (NBHNP) and the 2009 Draft Plan point out, the central area of our neighborhood is still missing public spaces that provide opportunities to play for young (play structure) and old (chess table), talk to friends and neighbors (benches, picnic tables), and for community gatherings (plaza). The adopted NBHNP points out that with the existing population North Beacon Hill does not even meet the minimum city standards for the ratio of open space to residents.
A park-like setting in the core will also help alleviate the lack of tree cover and vegetation. It would give residents and visitors a great opportunity to connect with nature, the environment, and the larger landscape of the Pacific Northwest, and for all to share the spectacular Beacon Hill views.
With community backing, this acquisition would most likely score highly due to the central location in our community, the consistency with the adopted plan, the coupling with the transit station, and the vacancy of the desired land. All these factors combine to make this an unique and creative opportunity.
Please comment on this blog about what you think and what you would like to see in the Beacon Hill Park. This proposal will be submitted to the North Beacon Hill Community Council for endorsement at the meeting on Thursday April 1, 2010. Please come out to express your support!!
Andrea Leuschke is a landscape architect who has worked on the Beacon Ridge Improvement Community (BRIC) stairway project. Tim Abell is a resident of Beacon Hill and an architect who designs and develops work force housing in Seattle.
(All images courtesy of Andrea and Tim. Click on each thumbnail image to see a larger version.)