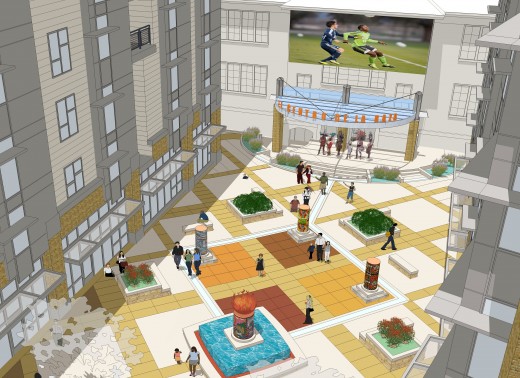 To the community from El Centro de la Raza:
In late February El Centro de la Raza presented to the community its latest designs for Plaza Roberto Maestas (PRM). We have been delayed in getting this post out to the wider community by the significant fight for State housing resources for this project in Olympia right now. PRM is the mixed-use community-inspired transit oriented development project that will be built on El Centro's currently vacant south parking lot, next to the Beacon Hill Light Rail Station. It will be 113 units of affordable housing over 30,000 square feet of daycare, multi-cultural community center, retail/restaurant and office space. The latest design renderings incorporate feedback gathered from over ten community meetings and focus groups that took place in 2012. ECDLR just scheduled its first City of Seattle Early Design Guidance meeting for June 25th at 6:30pm at Wellspring Family Services on Rainier Avenue. This meeting will kick off our permitting process and is open to the public.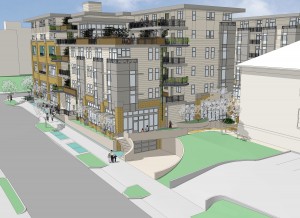 Plaza Roberto Maestas will be built in the spirit of Dr. King's "Beloved Community." It will be a physical place that honors the history and culture of El Centro de la Raza, while serving as a "town center" gathering place for the larger Beacon Hill community to utilize and enjoy.
For those that have not been able to attend community meetings to date, we have compiled this post and the following Frequently Asked Questions to maximize information sharing and community awareness of the project. In the near future, El Centro de la Raza hopes to co-host a meeting with the North Beacon Hill Council, Beacon BIKES and SDOT to talk about parking, traffic and pedestrian safety in the Beacon Hill neighborhood around this project. We will announce a date for this meeting soon.
Please feel free to contact Kate Gill de la Garza, Project Manager, with any questions about PRM. She can be reached at 206-860-2491 ext. 202 or at kated@beacondevgroup.com.
Read on for the FAQs about the Plaza Roberto Maestas project:
Continue reading Plaza Roberto Maestas project moving forward →