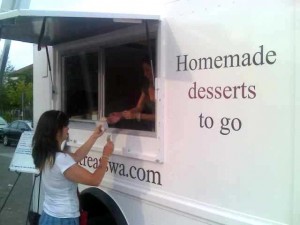 I have
long been arguing
that Beacon Hill needs more
street food vendors
, so I am especially happy to have
Street Treats
answer my call. Not only do they provide a revolving variety of pies and cookies, but most importantly in this hot weather, they sell
Bluebird homemade ice cream
.
We rolled into Beacon Hill this last Friday after a grueling 13 hour drive through eastern Washington heat, and went immediately in search of the Street Treats truck which was parked this last Friday right across from the light rail station. We had to try more than one thing, so we had a homemade ice cream sandwich with double chocolate cookies and mixed berry ice cream and an equally amazing full-flavored espresso ice cream made with Stumptown coffee—both of which were amazing.
It's hard not to notice the large increase in pedestrians near the light rail station in the last year, and since development has stalled, portable food vendors are in a perfect position to take advantage of this foot traffic. It pains me to see fences around gravel lots in areas that could so easily accommodate and attract more food trucks. How awesome would it be to have a revolving variety of food vendors in our neighborhood on any given night? There is no reason that neighborhood restaurants and businesses couldn't capitalize on a regular mini food festival. More locals could develop small businesses and we all could use a multi-ethnic gathering area.
In the meantime, Street Treats desserts are not only delicious but they are served in an eco-friendly manner. Their truck uses biodiesel and serving materials are all biodegradable and compostable, so skip dinner and watch for the Street Treats truck parked near the light rail station on Friday nights between 6:00-8:00 pm.
Joel Lee maintains the Beacon Hill Public Art website and has posted previously on this blog about street food.