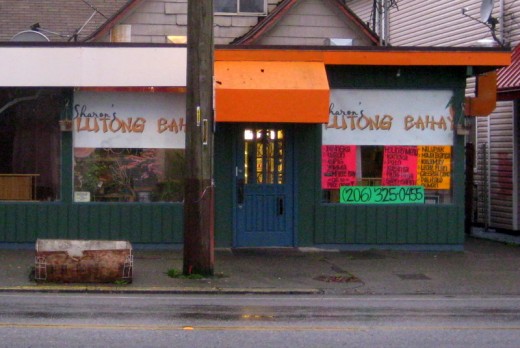 (Full disclosure:
BHB
contributor Joel Lee has worked with one of the owners of The Oak in the past. He asked them for a bit of information about the new project. – Ed.)
I was pleasantly surprised stepping into the building at 3019 Beacon Ave. S. to discover its large, inviting, well-lit interior. Over the years a series of businesses have passed through this space with such crowded window coverings that I always imagined the interior to be dark and tiny. Although it is still in the early stages of a major remodel, it is now easy to see the potential of this space that attracted the new owners (Tim Purtill, Kelly Staton, Lisa Jack, and Mat Brooke) to open their new restaurant/bar The Oak in our neighborhood.
This group has already launched a bar on Capitol Hill in 2006 (The Redwood) and promises to bring parts of their successful formula (and hopefully their spicy sweet potato fries) to Beacon Hill with an emphasis on local-sourced, organic American comfort foods and local breweries.
The owners are holding their cards close to their chests and are not ready to give out too many particulars, as they are finding the right balance between all-ages restaurant and grown-ups-only bar. It is, however, safe to assume a spring opening as they are working diligently on the space. Two of the owners are also moving to North Beacon and plan to bring to The Oak that local touch and community focus that comes with living on the hill.
(Editor's note: Co-owner Lisa Jack told the BHB in an email that "We hope to have an all-ages room with our full menu that will close at 10, and the lounge will be cozied in the back operating all day with a full menu also. We haven't decided on the hours yet.")