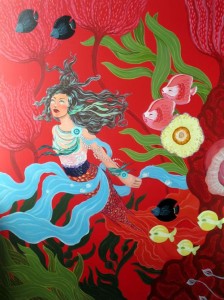 The Station coffee shop at 2533 16th Ave South is currently displaying paintings by Angelina Tolentino. There will be an opening reception for the exhibit from 1:00 to 3:00 pm on Sunday, November 21.
The artist's biography:
I am a designer, illustrator and painter. I was born and raised in California but have called Seattle home for fourteen years. I love to draw and I am happiest with a little paint in my hair. I am inspired by a great number of things: old cartoons, firecracker packaging, bicycles, photo-booths, Japanese packaging design, street art, windup toys, antique stores, gardens, high-fashion, 60s soul music, dinosaur exhibits, old signs, chefs, flowers, sea creatures… just to name a few.

I paint because it's what I love to do. I describe my painting style as whimsical, colorful, and playful. I have been known to paint women with fantastically long necks who live on tropical islands. I am specifically inspired by the natural world especially the the worlds under the sea. I find water to be a unifying element in my work. I've been working lately with other materials like sand and creating three-dimensional altars, exploring death and rebirth, but in a colorful, celebratory way.

One of my most recent projects was a mural on the side of a bridge in the Southpark neighborhood of Seattle. This mural will live for another year before the bridge is taken down and replaced with a new one.
Gina is also the co-owner ofa partner in the Bar del Corso pizza restaurant, currently scheduled to open at the Beacon Pub site next June.
Here is an example of her artwork:

(Photos courtesy of the artist.)
(Ed.: Correction made of Tolentino's involvement in Bar del Corso, 11/16/10.)