Now that the holiday season is upon us, shopping is on the minds of many.  Black Friday is infamous for the crushing crowds at the box stores and the malls and now "Cyber Monday" has become a major phenomenon, as folks turn to the internet for convenient holiday shopping.  Both these forms have shopping have something in common: they do not support local businesses.  On Beacon Hill this is a chicken and egg issue—not much holiday shopping occurs locally because there are not many places to shop, and there are not many places to buy gifts because people tend to drive elsewhere to do their holiday shopping. But it was not always this way.
I was curled up with Images of America: Seattle's Beacon Hill yesterday and came across this quote from Pete Caso (born 1923):Â  "There were many businesses before and now there is absolutely nothing. There were four drugstores on Beacon Hill, three bakeries, five grocery stores, and all your daily shopping was done on Beacon Hill. Why did the businesses close? The businesses were there in the 1940s. They closed up after World War II, with supermalls and everybody got a car. Before those days, nobody had a car. Up until then you used the street car or you walked."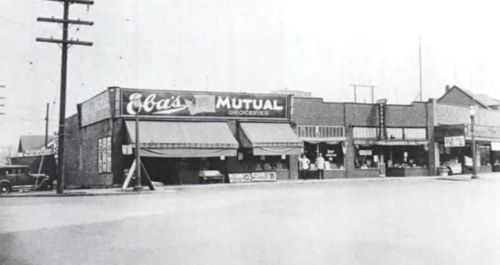 Biking was also popular before the War, as evidenced by the fact that a popular bicycle repair shop (Mr. Ellis's Repair Shop) used to exist on Beacon Avenue at the current location of La Bendicion.  Because it was difficult to get off the Hill by foot, bike, or long street car ride, people stayed up here to do their shopping and the local economy boomed.  Today, the Department of Planning and Development's answer to bolstering the local economy is density and transit oriented development. Generating more shoppers will help, but just as important is to reorient existing residents inward.  One way of doing this is changing how we get around.
So before I walk up to Red Apple to get some groceries, and El Centro to pick up my Christmas tree, I thought I would share another quasi-local route to a great shopping destination that is fun for the whole family: Goodwill!
This route is safe for bikers of any level and because it uses 18th Avenue South to get back up the hill, it is not too strenuous.   I look forward to the days when I can stay on the Hill to do all my shopping; until then, I have my bike as a viable transportation alternative that forces me to keep it local (and keeps me from getting trampled trying to pick up a NERF N-Strike™ Stampede ECS™). Happy Holidays and please respond with your favorite local shopping destinations!
Beacon Hill to Goodwill on Dearborn (SAFE ROUTE) at EveryTrail