On December 26 at about 12:25 am, a woman was robbed on the Chief Sealth Trail in the 2600 block of South Orcas Street. She told police that the robber put a gun to her back and said "Give me everything you have." She gave him her wallet and he took her money as well as her cell phone, then took off running northeast through the park.
The woman then ran to Beacon Avenue South and rang doorbells until she was able to get someone to call 911 for her.
A K-9 search for the suspect was unsuccessful. The suspect was described as a black male, about 6'0″, wearing a dark beanie, braided hair, a gray zipper sweater, dark pants, and white Jordan tennis shoes.
The police report is here, and the SeattleCrime.com report is here.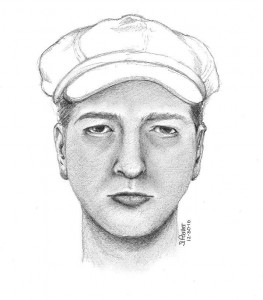 Another crime took place on Tuesday, December 28, when a 63-year-old woman was violently sexually assaulted in the 1700 block of South Angeline Street at about 5:50 pm. The woman fought back and the suspect fled, taking her handbag.
The suspect (pictured to the right in a police sketch) remains at large, and is described as a Hispanic male in his 30's to 40's, 5'10" to 6′, clean-shaven, with a brown complexion and medium build, and wearing a beige or light-colored jacket and a beige hat.
The SPD Blotter report is here.
If you have information about either of these incidents, please call 911. If you have information about Tuesday's assault, you can also call the Seattle Police Sexual Assault Unit at 206-684-5575. Anonymous tips are welcome.

View Assaults on Beacon Hill, 12/10 in a larger map