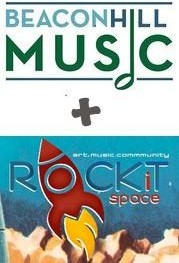 Local organizations Beacon Hill Music and ROCKiT Space, who have worked closely together in the past, have merged. Here's a message they sent us about the change:
Beacon Hill Music and ROCKiT Space are merging. Last year ROCKiT Space teamed up with Beacon Hill Music to bring you "Beacon Rocks!" Now we are merging to continue building programs for families on Beacon Hill. ROCKiT Space is an all-volunteer-powered arts non-profit striving to create space for community in our lives through the creative arts. We will continue to work closely with The North Beacon Hill Council; they will be a co-sponsor of all our Beacon Rocks events, generously providing permitting and insurance for those events. So "Beacon Hill Music" and "ROCKiT Space" now are interchangeable when it comes to putting on musical activities on Beacon Hill (we'll sort out the naming as we go along).

Who Is Beacon Hill Music?

Beacon Hill Music is a group of Beacon Hill residents who love music and would love to see a whole lot more music (and dance) happening on Beacon Hill. We are excited about Beacon Hill having the first festival street in Seattle, the "Lander Festival Street" (the block just north of the Beacon Hill Light Rail Station). Now, as part of ROCKiT Space, we want to continue to use the Festival Street as a performance space and we are branching out to other activities such as the Beacon Hill Music Songwriters Circle, coordinating music for the Beacon Hill Festival, etc.

If you have questions, suggestions, or would like to join in the fun of putting these events on, email us at beaconrocks@gmail.com.