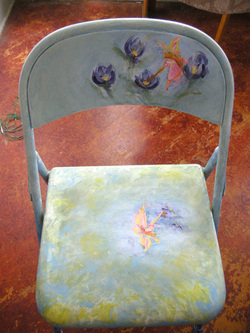 ROCKiT space
is hosting a work party on Saturday, November 5 as part of a continuing project to decorate art chairs for community events. The "
Have a Seat, Beacon
" project, which began earlier this year, will create 45 chairs that are also individual works of art. This free workshop with Oaxacan and Seattle-based painter and print-maker
Fulgencio Lazo
will provide participants with the opportunity to transform a plain metal folding chair into a painted art chair.
Lazo, who resides on Beacon Hill with his family, will share his technique and aesthetic approach at the workshop, as well as painting two chairs himself. His work has been exhibited extensively in Mexico, Japan and the United States. Sue Peters of the Seattle Weekly wrote about him in 2005: "There's a simplicity and joy to Fulgencio Lazo's work that's refreshing. His oil paintings evoke Paul Klee and Marc Chagall in their vividly whimsical celebration of family, heritage, and community in his native Oaxaca."
Space is limited, so the free workshop is open to the public by reservation. No experience is necessary, and the workshop is bilingual. For more information or to reserve a spot in the workshop, contact Sheba Burney-Jones at shebabj@gmail.com or 206-669-4574.
(Wendi Dunlap also contributed to this article.)