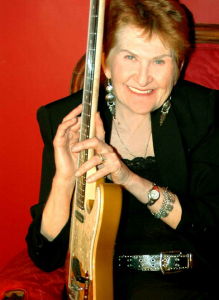 ROCKiT Community Arts has a couple of events this week at the Garden House on North Beacon Hill, including another Family Free-For-All and and the start of the new Garden House Blues music series.
Family Free-For-All is today, September 18, from 4-6:30 p.m. As you might guess, admission is free (for all). Suzanne Sumi will be there to host a family song time. The Free-For-All is a casual, drop-in event for kids and parents alike, with art, music, and toys available to play with and enjoy.
On Friday, September 21, at 8 p.m., the new Garden House Blues series of country blues concerts begins with Alice Stuart and Eric Freeman. Here's an excerpt from Alice's website bio:
"Way ahead of her time, Alice Stuart blazed the trail for women in rock and roll as one of the only females in the country to write her own music, front a male band, and play lead guitar on national and international circuits. Blues Hall of Fame inductee, Dick Waterman, once remarked, 'There would be no Bonnie Raitt without Alice Stuart.'"
Virginian (and now West Seattleite) Eric Freeman plays country blues guitar that wouldn't sound out of place on a scratchy record from the 1920s or 30s.
Tickets to Friday's show are $20 cash/check at the door, or by advance sale from Brown Paper Tickets.
The series will continue in October and November with Lloyd Jones and Paul Green on Friday, October 19, and Bonnie McCoy (Memphis Minnie's niece) with special guest Mary Flower on Friday, November 16.