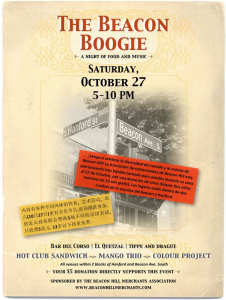 Put on your boogie shoes this coming Saturday, October 27 from 5-10 p.m. — the Beacon Hill Merchants Association is sponsoring another Beacon Boogie, a night of dinner, drinks, and live music in several restaurants in North Beacon Hill. All locations are within 2 blocks of South Hanford Street and Beacon Avenue South.
Here's the evening's schedule:
Hot Club Sandwich
5pm – 8pm, Bar del Corso, 3057 Beacon Ave. S.
Hot Club Sandwich define themselves as "Acoustic/Jam Band/Jazz."
Mango Trio
7pm – 10pm, El Quetzal, 3209 Beacon Ave. S.
Members of MangoSon, a band who says they want to "recreate the sounds you might have heard in the street corners and marketplaces of coastal cities of Latin America before the onslaught of keyboards and electric guitars… We want our music to smell of sweet rum, black beans and rice, plantains and casabe."
The Colour Project
8pm – 10pm, Tippe and Drague, 3315 Beacon Ave. S.
The Colour Project is a Seattle-based electronic rock duo, who "combine drum beats, guitar, synthesizer, textured loops and melody."
Admission to Beacon Boogie is a $5 donation.