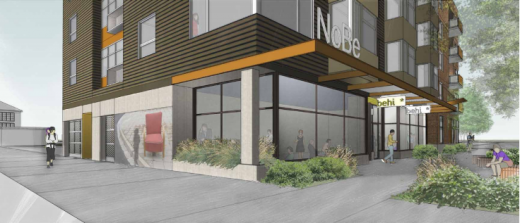 More information is now available about the McClellan Apartments development proposed for the southeast part of the Beacon Hill Station block at 2721 17th Ave. S. The Department of Planning and Development (DPD) has posted the Design Review compilation from the architects of the project which will be presented at the November 13 Design Review meeting.
The PDF contains a wealth of information about the project, including artists' renditions of the building, floor plans, shadow studies, cross-sections, and more. The project will be a six-story building with residential units ranging from studios to two-bedroom units, including three units designated as "affordable housing."
The Design Review Board will meet on Tuesday, November 13 at the Wellspring Services Community Room, 1900 Rainier Ave. S. to discuss the project and how well the design addresses the priorities established at the previous Early Design Guidance meeting. At this meeting, the public will be allowed to comment, but the comments are limited to design considerations.
Thanks to Matthew for the heads-up!