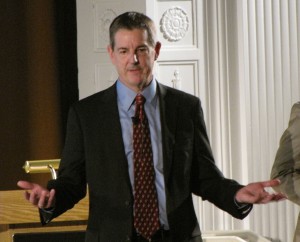 About 100 people from Beacon Hill and other neighborhoods came to Cleveland High School on Tuesday night for a meeting hosted by the Federal Aviation Administration (FAA) and the Port of Seattle, but the meeting did not go as planned.
The Port and FAA intended the meeting to "provide information on existing flight procedures into and out of Seattle-Tacoma International Airport and Boeing Field," and started the evening with an introductory "Aviation 101" slide presentation. The crowd had other ideas.
Previously, the FAA had been criticized by some for the strictness of their meetings in Ballard and Federal Way, when residents were not given an opportunity to ask questions. This time, it was clear that they intended to let people ask questions, and ask they did.
During the presentation, people in the audience frequently broke in with shouted questions to ask about the topic that most were there for: airplane noise over Beacon Hill and other communities under the Sea-Tac flight path. There was no printed agenda available, so the neighbors in attendance were restless, and in no mood to wait through presentations to get a turn to speak.
The basic issue, said neighbor Tina Ray of the Quieter Skies Task Force with audible agreement from the crowd, is that flights overhead are "every 45 seconds to two minutes, and they are darn low. And it's been going on for a year."
The Port and FAA representatives would not commit to installation of more noise monitors on Beacon Hill, but promised to take residents' concerns seriously. Some neighbors were skeptical.
Ray expressed the frustration many were feeling: "We're not making it up; we haven't dreamed this… This is what's going on right now in Southeast Seattle. This is what the discussion needs to be."