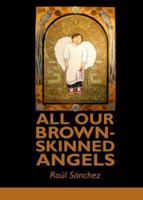 Last night was the Beacon Bards poetry event, but it's not the only poetic activity on the Hill this week. Tonight, November 15 at 6 p.m., the poetry moves to El Centro de la Raza, where Mexican-American poet Raúl Sánchez will read from his debut chapbook, All Our Brown-Skinned Angels
. There will also be a book signing after the poetry reading.
The event is free, but if you are interested in attending, please RSVP to execasst@elcentrodelaraza.org or at 206-957-4605.
Here are some lines from a poem in All Our Brown-Skinned Angels, "My Father Was a Bracero":
He didn't want me to live
by my strong back, strong arms
but by my words