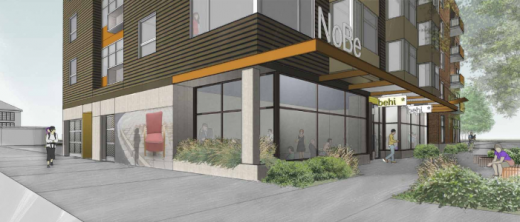 The Seattle Department of Planning and Development (DPD) director has
issued a decision
on the project at 2721 17th Avenue South (the southeast corner of the Beacon Hill Station block), approving the project's design as based on the final recommendation of the Southeast Design Review Board, with certain conditions. The conditions include designing additional lighting for the sidewalk along South McClellan Street, improved treatment of the ground-level residential units to increase privacy and reduce light pollution, and specifications for the artwork along the alley façade.
Previous conditions already met include designing the top floor along 17th to be set back 10 feet from the property line, and a revised lighting plan for additional lighting.
The complete report and analysis may be read here. The architects' presentation from the November 2012 Design Review meeting may be read here, and the Design Review Board's report after the November meeting is here.