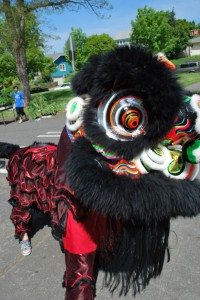 Elizabeth Lowry, co-chair of the Franklin High School Arts Festival, sends this announcement:
Imagination. Swagger. Creativity. Culture. Intensity. Irony. Empathy. Everything comes together in the visual art and performances that Franklin High School students will present this week during the school's yearly arts festival and talent show.

"The Mt. Baker Quakermaker Shaker" is the theme of this year's festival, which begins with an art opening at 5:30 p.m., Thursday, May 16, at Mioposto, 3601 S. McClellan St. The FHS talent show is the main attraction Friday, May 17, starting at 7 p.m. in the school's auditorium, 3013 S. Mount Baker Blvd. The arts festival will be from 11 a.m. to 3 p.m. Saturday, May 18, on the plaza in front of FHS.

The events, which are open to the public, bring together students, their families, teachers and staff and Mount Baker neighbors. The festival raises money to benefit Franklin's art, drama and music programs and student clubs, while the talent show raises money for the senior class of 2015. Tickets to the talent show are $3 for FHS students and $5 for others. The art opening and the arts festival are free.

The festival will feature student performances, including the steel drum band, fashion club, jazz band, Quaker band and lion dancers, along with displays of visual art, ceramics and wood arts. Student clubs will sell heirloom tomato and vegetable plants, treats and handmade crafts. Also for sale are woodcrafts, such as cutting boards, created by students and notecards featuring student art. Vietnamese sandwiches, chips and soft drinks also will be for sale. 

The arts festival is sponsored by the Franklin High School PTSA and the Franklin High student body.



For details and updates, find us on Facebook, check franklinhs.seattleschools.org, or email elizabethlowry@comcast.net.