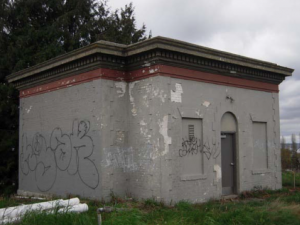 Neighbors working to save the Beacon Reservoir Gatehouse are seeing progress. The Landmarks Preservation Board will consider the nomination of the gatehouse (3801 Beacon Avenue South, inside Jefferson Park) at its upcoming meeting. (This is the official address, but the actual Gatehouse location is much closer to 15th Avenue.) BHB formerly reported on the gatehouse here.
The public is invited to attend the meeting and make comments. It's scheduled for Wednesday, September 1 at 3:30 p.m. in the Seattle Municipal Tower, 700 Fifth Avenue, 40th Floor, Room 4060.
Written comments should be received by the Landmarks Preservation Board at the following address by 5:00 pm on August 31: Seattle Landmarks Preservation Board, Dept. of Neighborhoods, P.O. Box 94649, Seattle WA 98124-4649.
Copies of the landmark nomination are available for public review at the Beacon Hill Branch Library, 2821 Beacon Avenue South.  The nomination is also posted on the Department of Neighborhoods website.