Restaurant inspections: African American Academy (as Public Health still calls it ): 0 points; Inay's: 25 points, a single red violation; La Bendicion: 25 points, a single red violation and a handful of blue violations; and La Cabana: 10 points, a single red violation. Red violations are corrected before inspectors leave the establishment. A score over 45 points requires a re-inspection within 14 days.
* * *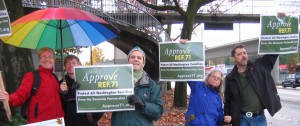 * * *
ROCKiT space has kids workshops every Sunday, including a kids' dance class at noon, sing-along at 1pm, and various art workshops in the afternoons. Starting tomorrow night, they are also hosting a series of well-being workshops facilitated by certified hypnotherapist and NLP practitioner Bridget McKenna. Further details at http://rockitspace.ning.com/events. Thanks Marti!
* * *
OneAmerica has posted videos on YouTube from the candidates forum hosted earlier in October with CAIR at the NewHolly Gathering Hall. Thanks Theresa!
* * *
A "Street Smart Self-Defense Seminar" is taking place at the South Park Community Center, 8319 8th Avenue South, Sunday from 1:30 to 5pm. Kids from 5 and up, teens, and adults of all activity levels are welcome. Drinks and snacks are provided. A Spanish interpreter will be present. A $50 donation is suggested, but pay what you can — no one will be turned away for lack of payment. For more information contact Sherry McGregor at (206) 653-6020. Sorry for the short notice. Thanks Betty Jean!
* * *