Sophie is still missing. From Craigslist:
500.00 reward for finding our lost cat
Sophie is a 7 year old spayed gray and white fluffy cat with greenish-yellow eyes. She was last seen around 7pm on September 25th, 2009 and was wearing a bright pink collar with silver sparkles on it and a small pink bell attached. She enjoys hiding out in garages and would likely be a little skittish unless hungry. We miss her terribly and need to have her back home with us — she's a true member of our family. If you have any sort of information please, please contact us as soon as possible — no questions asked, we just desperately want her back home. Life just isn't the same without our girl. (206) 723-1608. Thank you so much.
* * *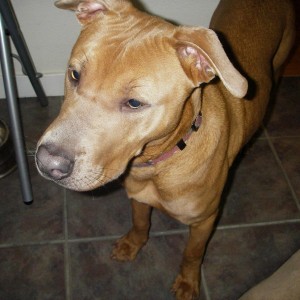 This red-coated dog was found around 7:30pm Tuesday evening running around the intersection near the fire station at Beacon and Spokane. Please call Ely at 206-478-8930 if you can help find his owner.
* * *
First graders at Beacon Hill Elementary got a visit from some adorable pit bulls.