Have you checked out the North Beacon Hill Neighborhood Plan Update? In case you're new to North Beacon Hill, this is the draft document generated out of hours of meetings with the City of Seattle Department of Planning and Development (DPD).  The North Beacon Hill Neighborhood Council and many individuals have worked very hard to collect input and share neighborhood opinions about how our community ("urban village") should look.
Perhaps the biggest change proposed in this draft is increasing the height limit of buildings surrounding the light rail station.  There's also a proposal to update El Centro de la Raza's zoning.  It's currently single family residential—no, I'm not joking. In case you're unfamiliar with El Centro, there are dozens of programs operating out of that building, serving thousands of people of all ages and from all backgrounds.  Childcare, senior meals, homeless services, a food bank, immigrant advocacy, and more.  There are also businesses operating within El Centro: CommuniChi acupuncture, Excelsior Travel Agency, and others.  For a complete list and to learn how to volunteer or make a donation to El Centro, visit their website. El Centro hopes to develop affordable housing and expand their program facilities.  This is an incredible opportunity for our entire neighborhood.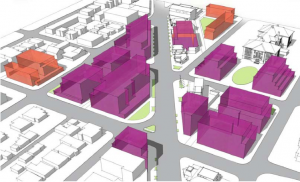 Many people have concerns and fears about changes to our neighborhood, especially around the idea of increasing density.  What's important to you? What makes Beacon Hill a place you want to live?  What would you change?  I'm concerned about preserving the character of our neighborhood and encouraging good design.  I want to keep what we have (Red Apple, Baja Bistro, La Cabaña, etc.) and add businesses that serve our community (a bookstore, a consignment store).  I want to preserve the charm of our single family blocks and add dense, affordable housing near the station.  I want our sidewalks and crosswalks accessible to the seniors who've lived here for decades and to those of us pushing strollers through the neighborhood.
My priorities around neighborhood planning were honed when we were looking for a house in 2003.  I attended Seattle Midwifery School at El Centro (they've now moved) and loved Beacon Hill.   It only took one walking tour to convince my partner that this was a great place to live.  Our goal is to live in this house for 20-30 years.  We planned where we were going to buy a house based on what was important to us:
walkability/run-ability (safety, accessibility, comfort, quality of sidewalks and trails)
services (grocery store, library, coffee shop, bar/pub, restaurant)
transit access and easy access by car to other places
diversity
established community
parks and green spaces
We're expecting another human member of the family in May.  I'm excited to see baby/kid-friendly businesses opening in our neighborhood.  We always assumed we'd send our kid to the neighborhood school, and were content with Beacon Elementary and Kimball as choices.  The Seattle School District is shifting to location-based school assignment, which will (hopefully) mean that our south-end schools start achieving parity with the rest of the city.
Change can be challenging.  For some perspective on all the changes in Beacon Hill over the last 100 years or so, check out Seattle's Beacon Hill by Frederica Merrell and Mira Latoszek. (Merrell is an occasional contributor to the BHB. — ed.) The book is chock-full of photos from the Jackson Regrade—when neighborhood planning meant washing huge portions of the city down into the Sound!  Now is our chance to shape our community for decades to come.  Get informed; get involved.  Attend meetings (the North Beacon Hill Council meets on the first Thursday of every month at the library) and talk to your neighbors.
(Editor's note: If you'd like your own copy of Seattle's Beacon Hill, you can order one from Amazon through the link on the lower right of this page.)