The Bartell Drug Store at Rainier Avenue South and South College Street has applied for a new "Grocery Store – Beer/Wine" liquor license. If you wish to comment on the application, you can email your comments about license number 406481 to customerservice@liq.wa.gov.
Thanks to Shelly Bates!
* * *
The proposed Jefferson Park Food Forest has a new website with information about the Food Forest's design and mission.
Thanks to Joel Lee!
* * *
Maple Elementary School is working on a mural project. Students, parents, and community members of all races will work together to create a mural for the school gym exterior that reflects the significance of The Maple Creed: "I know that our country was built by people of all races and I know that people of all races keep our country great."
Community tile creation and tile glazing sessions will be held on the following Mondays from 3:30 – 8:30 pm: May 3, 10, 17, 24; June 7, 14. There will also be sessions on the following Saturdays from 10:00 am – 2:00 pm: May 1, 22.
RSVPs are requested. To find out more about the project and RSVP, contact Terry Virdell at 206-898-5679, or email terryvirdell@gmail.com.
* * *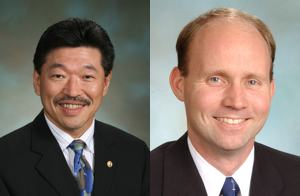 Local state Representatives Zack Hudgins and Bob Hasegawa invite residents of the 11th Legislative District to join them for a telephone town hall
tonight, April 27
, from 6:00 p.m. to 7:00 p.m.
Hudgins and Hasegawa will discuss the 2010 legislative session, creating jobs, their priorities for the 2010 state budget, and the budget's impact on local communities. Residents will be invited to stay on the line and join in on the conversation. You can also phone in directly between 6:00 and 7:00 p.m. by dialing (toll-free) 877-229-8493, code 15512.
* * *
Last week, Cienna Madrid at the Stranger wrote about the new Streets for All Seattle Coalition, a group fighting to fund projects for bicycle, transit, and pedestrian improvements. In the article, SASC spokesman David Hiller specifically discusses how a transportation crisis in South Seattle has drawn organizations such as El Centro de la Raza into the coalition.
* * *
Gardeners take note — @VictrolaCoffee posted on Twitter: "Free bags of coffee grounds everyday at Victrola Beacon Hill – 3215 Beacon Ave So. – make your gardens grow!"
* * *
Please be careful with your pets. King County Animal Care and Control sent out a recent notice that there may be an outbreak of canine distemper in area raccoons. This disease is highly contagious among dogs, ferrets, and a variety of wild animals. Cats are not affected.
* * *
Asian Express, Dim Sum House, and Jefferson Community Center all received recent inspection visits from the Health Department. (Click each establishment's name to see the results.) Congratulations to Jefferson Community Center for a perfect score of zero!
* * *
The Seattle City Council and Mayor will host a joint public meeting about the City's budget here on Beacon Hill at the New Holly Gathering Hall, tomorrow, April 28, at 5:00 pm. The New Holly Gathering Hall is located at
7054 32nd Avenue South.