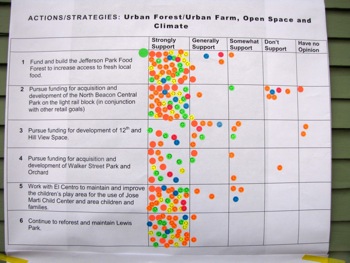 As we reported last week
, many Beaconians voted on a
Neighborhood Plan Update actions and strategies survey
while attending the Beacon Hill Festival. Others have since
filled out the survey online
. The purpose of the survey was to ask North Beacon Hill neighbors and non-residents to rate their support for elements of the North Beacon Hill 2011 Neighborhood Plan update. Survey respondents were asked to indicate their level of support or agreement for various strategies to be included in the plan; those who voted at the Festival did this by placing stickers on voting posters to indicate their level of support.
Frederica Merrell has provided us with some vote results and highlights. Among quite a few other results, the voting reflected a high level of opposition to building commuter parking lots on the Hill, and a high level of support for such strategies as consistent broadband access, the Food Forest, and a Town Center Campus with redirected traffic. The highlights of the vote totals may be read here: Word .doc format, or PDF.
A spreadsheet containing all the vote totals may be found here: Excel format, or PDF.
All of the "vote posters" from the Beacon Hill Festival event may be seen in this folder. There are photos that show each entire poster (for context) as well as closer views to make the results easier to read.